Wood Floor Cleaning in Mount Ephraim, New Jersey
Wood Floor Cleaning in Mount Ephraim New Jersey
Wood floors add warmth and beauty to any home. When properly finished and cared for, your flooring investment will last for years. I Clean Carpet And So Much More LLC is the preferred Mount Ephraim wood floor cleaning and maintenance company. We have built our reputation as Mount Ephraim's house cleaning company of choice, and also pride ourselves on our expert wood floor cleaning services. With each cleaning, your floors are thoroughly vacuumed to remove any dirt and grit that is so abrasive to wood floors. Area rugs are also vacuumed or to remove collected grit. Next, a premium wood floor cleaner will have your wood floors fresh and gleaming once again.
Mount Ephraim Wood Floor Maintenance
Even with regular cleaning, your wood floor will lose it's luster over time, especially in high traffic areas. Residents who use I Clean Carpet And So Much More LLC for wood floor maintenance in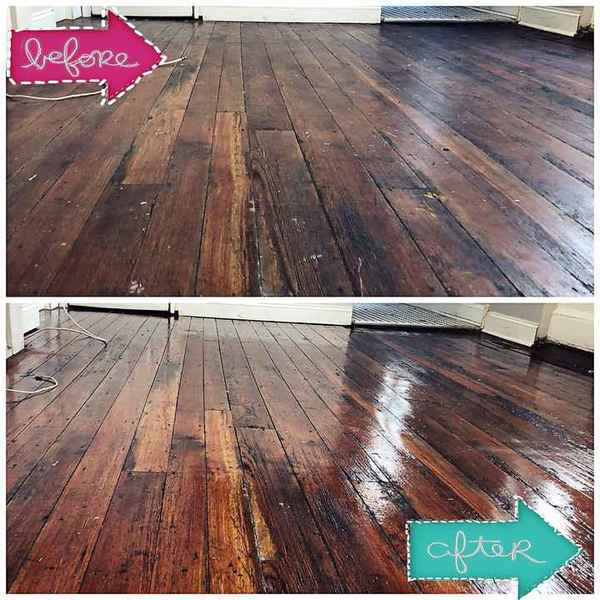 Mount Ephraim know that floors that lose their shine don't necessarily have to be completely refinished. We have a remedy that will serve as a bridge, prolonging need for floor refinishing. We can apply a polyurethane based wood floor product that will add a clean sheen to your wood floors. Let I Clean Carpet And So Much More LLC clean, maintain and protect your Mount Ephraim wood floor investment. Call us today for a free estimate, and we'll have your floors gleaming again in no time!
Convenient Scheduling of Wood Floor Cleaning in Mount Ephraim
We understand that scheduling a floor cleaning company for your Mount Ephraim home can be a challenge. You are busy and we appreciate that. We are small enough to give you the customer care you deserve, but large enough that we can be flexible with wood floor cleanings. Simply call (267) 495-5188 and we'll schedule a time that best suits needs. We can arrange day, evening and weekend cleaning appointments. Call today and we'll add you to one of our regular Mount Ephraim wood floor cleaning routes!
---
Call for FREE Wood Floor Cleaning Quote
---
WHAT CUSTOMERS ARE SAYING:
5★★★★★ - "My Floors look absolutely amazing. I didn't think it was possible."

Homeowner, Wood Floor Cleaning in Willow Grove, PA

2018-08-06

5★★★★★ - "Seth and Gabe did a great job. Fast and friendly. My carpets look new again and smell great. Thanks guys!"

Tracy in Bensalem, PA

2020-10-08

5★★★★★ - "Excellent service. Fast response. Carpets are now very clean and free of stains. Even dog urine stains went away completely. Thank you guys!"

Rocio Cruz, Carpet Stain Removal in Willow Grove, PA

2020-03-18

5★★★★★ - "Absolutely fantastic! I was in a time crunch and I Clean Carpet came out after working hours to get the job done for me. They were professional and very knowledgeable. They cleaned up after themselves and took time and care to be careful around some very fragile items in my home. I will be using them again and again. Hire this company if you want an outstanding service!"

Cammie Houston in Ambler, PA

2020-03-09

5★★★★★ - "Seth did a great job cleaning our tile and grout He is very honest, professional, and punctual. I highly recommend working with Seth on your next cleaning project."

Steve S., Floor Cleaning in Willow Grove, PA

2020-03-05

5★★★★★ - "Seth is awesome! He is a consummate professional, punctual and makes certain his customers have the highest customer service experience! this makes the 3rd time our family has utilized his company's services!
Seth, you are our go-to guy!
Thank you for always exceeding our expectations!"

Lisa C., Carpet Cleaning in Willow Grove, PA

2020-03-05

5★★★★★ - "Great service! Very knowledgeable and professional. I made the mistake of hiring a cheap company advertising "$99 entire house" ... well, they charged tripled that when they came and didn't do 1/3 of the job I Clean Carpet did. Do yourself a favor and pay a few extra dollars to have quality work done that will save you money in the long run! A+++++++++"

Annie in Collegeville, PA

2019-10-16

5★★★★★ - "Thank you very much for the wonderful job yesterday! The guys cleaned both my bathroom floor tile and my kitchen floor! They were very professional and did a fantastic job! I would definitely recommend them if you need this done in your home!"

Marialena H., Floor Cleaning in Village Green, PA

2019-08-28

5★★★★★ - "OMG!!! I just got home!!! The carpets look absolutely amazing!!! I am soooo happy I went with you!! Fantastic!!! More than I could have hoped for!!! Excellent work thanks so much you are on my speed dial and will be in touch again very soon, I highly recommend you"

Homeowner, Carpet Cleaning in Willow Grove, PA

2019-04-02

5★★★★★ - "Seth did an amazing job cleaning the grout in our tile and polishing the wooden floors. He was upfront, honest, communicated and tinelt. He even came back a 2nd time after the grout cleaner dried to take care of the edges. Highly recommend!!"

Chaz Bademan, Carpet Cleaning in Willow Grove, PA

2019-01-07

5★★★★★ - "This is company is a 5 star across the board! Seth was extremely professional. He was on time and called before to confirm. As far as his service, he cleaned two wall to wall carpets and a couch. He did a phenomenal job and took extra steps like scotch guarding everything he cleaned! He's super nice too. And, came out on Labor Day. Who does that??? I will definitely use Seth again!"

Gia T., Carpet Cleaning in Willow Grove, PA

2019-01-07

5★★★★★ - "Very professional and considerate."

Maryhelen L., Carpet Cleaning in Abington, PA

2018-12-17

5★★★★★ - "Met my expectations, this was the first time I have used them and I can see the difference after the carpets were cleaned-Awesome job! I have used Stanley Steamers and other private cleaners, they did not meet my expectations. The carpet in the bedroom and stairways looked new and fresh after they were cleaned. I would highly recommend to any residential or businesses for the carpet cleaning service. Thanks for your service."

Mohammed H., Carpet Cleaning in Breinigsville, PA

2018-12-17

5★★★★★ - "Very polite and does a great job. My carpets look brand new. Highly recommend."

Colleen V., Carpet Cleaning in Bristol, PA

2018-12-17

5★★★★★ - "Vert professional, courteous, and fair priced."

Nicholas C., Area Rug Cleaning in Philadelphia, PA

2018-12-17

5★★★★★ - "very professional"

Karen M., Carpet Cleaning in Philadelphia, PA

2018-12-17

5★★★★★ - "I have used other carpet cleaners in the past, most recently Stanly Steamer, who did a good job, but the work done by this local company was extraordinary. Beginning with the ease of making the appointment, the excitement of the order taker and confidence in the work led me to give it a try. They were incredible, professional, very thorough and understanding of pets and stains. The carpet looks brand new and the room smells wonderful. We have a little rescue pup that is getting used to our home and not always 100% on her house training yet, that couple with regular wear and tear made this light wheat carpet look horrid. I am going to have a houseful of little ones for the holidays and no doubt they will be rolling all over the rug playing etc. The best thing I can say is I feel 100% confident in their safety and I git the feelings that this company feels very passionate about their work and keeping families in a healthy and polished environment. So very happy, choose them, you will be astonished!"

Patricia T, Carpet Cleaning in Lansdale, PA

2018-11-26

5★★★★★ - "He was extremely timely, fair, and nice. He went out of his way twice for us. I couldn't recommend him more."

Jeremy A., Carpet Cleaning in Coatesville, PA

2018-11-26

5★★★★★ - "I would hire them again."

Natalie T., Area Rug Cleaning in Doylestown, PA

2018-11-26

5★★★★★ - "Matt Stupal was excellent. Very polite, very thorough, worked relentlessly to get every stain out. Plus was great with our dogs! I highly recommend him and this company."

Jane O., Carpet Cleaning in Philadelphia, PA

2018-11-26

5★★★★★ - "Seth did a phenomenal job on my tile floor. I moved into my new house a few months ago. The kitchen floor was impossible to get clean, I tried everything on the market. I did not have the money to replace the floor. Seth worked around my schedule, was courteous, professional and delivered the results he promised! I am beyond pleased! He really brought my old floor back to life!"

Colleen S, Tile & Grout Cleaning in Philadelphia, PA

2018-11-05

5★★★★★ - "Seth was great! He was extremely professional and friendly. My carpets and sofa look awesome! I would recommend Seth to tackle your cleaning needs!"

Dana G., Upholstery Cleaning in Sellersville, PA

2018-11-05

5★★★★★ - "Awesome company! Reliable and affordable!!!"

Katrina D., Carpet Cleaning in New Holland, PA

2018-11-05

5★★★★★ - "Seth did an amazing job cleaning the grout in our tile and polishing the wooden floors. He was upfront, honest, communicated and timely. He even came back a 2nd time after the grout cleaner dried to take care of the edges. Highly recommend!!"

Chaz B., Tile & Grout Cleaning in Philadelphia, PA

2018-11-05

5★★★★★ - "Did a great job, on time and professional."

Lori B., Carpet Cleaning in Doylestown, PA

2018-10-25

5★★★★★ - "Very prompt response to my request, very acommodating to the time needed for service, courteous and professional. Quality of work was superior. My tile floor looks like new, they seal both the tile and the grout. Carpet also looks like new. I will definitely use them again!"

Clare N., Tile & Grout Cleaning in Newtown, PA

2018-10-25

5★★★★★ - "We are very happy with our carpet cleaning. Friendly and professional."

Ann S., Carpet Cleaning in Washington Crossing, PA

2018-10-25

5★★★★★ - "Very professional job."

Monte M., Area Rug Cleaning in North Wales, PA

2018-10-25

5★★★★★ - "The tile cleaning was done in a professional way! The large area of tile in my family room and kitchen look as good as the time of installation. The flood looks perfect!"

Mary b F., Tile & Grout Cleaning in Sellersville, PA

2018-10-25

5★★★★★ - "excellant work, and fast"

Monte M., Carpet Cleaning in North Wales, PA

2018-10-25

5★★★★★ - "very reliable,on time,excellent work and customer service,great price. Would recommend to others."

Wayne L., Carpet Cleaning in New Holland, PA

2018-10-25

5★★★★★ - "Professional, courteous, knowledgeable and works well with eldery."

Jane W., Carpet Cleaning in West Chester, PA

2018-10-25

5★★★★★ - "They were courteous, and did a good job."

Miriam E., Area Rug Cleaning in Morrisville, PA

2018-10-25

5★★★★★ - "Arrived on time. Max was able to clean some carpet areas that I thought would be impossible to rid of the stains. I'd recommend Max to anyone."

Joe D., Carpet Stain Removal in Haverford, PA

2018-10-25

5★★★★★ - "Very personable. Wanted to make sure that I was satisfied."

Frances B., Carpet Cleaning in Philadelphia, PA

2018-10-25

5★★★★★ - "Very professional, highly recommend."

Scott H., Carpet Cleaning in Lincoln University, PA

2018-10-25

5★★★★★ - "The carpet technicians were polite, knowledgeable, and efficient. I plan to recommend them to my friends."

Elizabeth S., Carpet Cleaning in New Hope, PA

2018-10-25

5★★★★★ - "Professional, courteous, Punctual and sincere!"

George S., Carpet Cleaning in West Chester, PA

2018-10-25

5★★★★★ - "Great job! My 15 year old carpets look like new!! Very easy to do business with!"

Terry B., Carpet Cleaning in Feasterville Trevose, PA

2018-10-25

5★★★★★ - "They went beyond duty to restore and clean my floor which a previous company sealed the floor with a wax/glue. Tech was awesome."

Sharon K., Tile & Grout Cleaning in Newtown, PA

2018-10-25

5★★★★★ - "He did an excellent job. Our floors look new again."

Mimi B., Tile & Grout Cleaning in Ambler, PA

2018-10-25

5★★★★★ - "Very courteous and hard working. I will hire them again."

Patti F., Carpet Cleaning in Pipersville, PA

2018-10-25

5★★★★★ - "It was great."

David M., Area Rug Cleaning in Holland, PA

2018-10-25

5★★★★★ - "Great service and incredibly nice people!"

Sada B., Carpet Cleaning in Quakertown, NJ

2018-10-25

5★★★★★ - "Excellent job"

Anthony V., Area Rug Cleaning in Clifton Heights, PA

2018-10-25

5★★★★★ - "We were on the verge of getting new carpets when my friend recommended this company. I'm so thankful she did! We are so pleased with the results."

Nicole C., Carpet Cleaning in Willow Grove, PA

2018-10-03

5★★★★★ - "Great service! I'm in my 70s and live by myself and get very weary when it comes to having strangers in my house and Seth made me feel extremely comfortable and went the extra mile and then some. I Clean Carpet was on time, professional, and extremely courteous. Seth went out of his way to get my carpets looking brand new! He took the time to explain to me what my carpets had deep down inside them and when I saw what he was able to extract from them I was shocked! I can't believe I had my grand babies crawling around on such filthy floors. I will most definitely be getting my carpets cleaned every 4 months by I Clean Carpet and So Much More. If you want a hassle-free and pleasurable experience this is the company you need to call. From beginning to end I have nothing but fantastic feedback."

Barbara W, Carpet Cleaning in Willow Grove, PA

2018-10-03

5★★★★★ - "Got in contact by reference.
The guy Seth Brower is so frank and such a good person.
He explained me everything about the carpet cleaning. The chemicals they use to clean the carpet are all good one. Never thought the carpet will look such a good after clean.
Really liked the work of Seth Brower. Will sure hire him in future for all my carpet cleaning works.
I will suggest him the most for carpet cleaning works."

Jay P, Carpet Cleaning in Willow Grove, PA

2018-10-03

5★★★★★ - "Seth came in to take care of the office carpets my dog had stained up with peanut butter, mud, and layered with fur. I expected him to tell me there were spots he couldn't get out, but everything was removed when was done! His van and tools made the visit very easy."

Brent W, Commercial Carpet Cleaning in Willow Grove, PA

2018-10-03

5★★★★★ - "Seth did a great job cleaning our kitchen grout! Very professional and at a great price!"

Robert G, Tile & Grout Cleaning in Willow Grove, PA

2018-10-03

5★★★★★ - "Highly recommend Seth!!!! AMAZING WORK!!!!!!!!!!!!! My carpets look brand new!!!!!!!!!!!!! Thank you thank you thank you!!!!!!!!"

Beauty by Alysssa, Commercial Carpet Cleaning in Willow Grove, PA

2018-10-03
---
Call for FREE Wood Floor Cleaning Quote
---